Ionic Filter Bar
A platform specific search filter for the Ionic Framework
$0.00
Details
Version:

1.0.5

Ionic:

1.x

Platforms:

iOS, Android

Released:

6 years ago

Updated:

5 years ago

Category:

Tags:
Ionic Filter Bar
Ionic Filter Bar is an Ionic plugin that allows you to easily add search functionality to your Ionic app. Supported on both iOS and Android, Ionic Filter Bar will animate in and cover the ion-nav-bar. Ionic Filter Bar also comes equipped with many configuration options plus a sass file for sass customizations.
Download my app SportScoop for iOS and Android to see Ionic Filter Bar in action!!
iOS App Store
Android Google Play
SportScoop web preview
Also Watch the Demo video below!!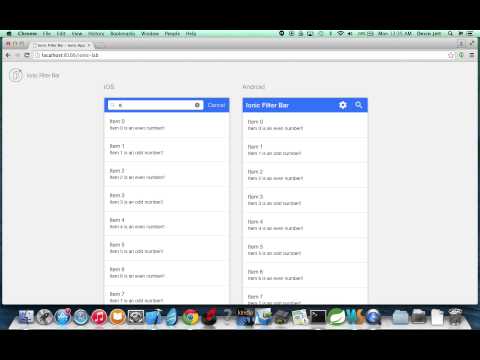 Documentation
For Usage, Documentation, or to report an Issue visit Ionic Filter Bar on Github
NOTE
On the Ionic View app, the search input is not autofocusing on iOS, which is responsible for bringing up the keyboard at the same time the filter bar animates in.