UI for Ionic 2, 3 and 4
A unified set of premium UI components that are missing from Ionic
$595.00
Details
Version:

4.10.2

Ionic:

4.x

Platforms:

iOS, Android

Released:

4 years ago

Updated:

1 year ago

Category:

Tags:
Fill the missing UI gaps & meet your business goals and requirements
Works across web and hybrid apps. Cross platform for iOS, Android and Windows Phone
Components
Responsive Calendar Make date selection great, no matter the device or screen.
Color Picker Control Let users pick the colors they are looking for with single & multiple select.
Date & Time Picker Don't let users struggle picking dates and times.
Lightweight Event Calendar Display events in a compact calendar view.
Mobile Forms Create beautiful and usable forms.
Responsive Image Scroller Enhance data selection with images and icons
Gesture Enabled Listview Build deep interactivity into grids and data lists for improved productivity
Measurement Scroller Control Capture and convert temperature, force, speed, distance and mass.
Customizable Menustrip Provide a superior user experience to hamburger menus.
Number Scroller Help users get pick the value in the desired format.
Flexible Keypad Control Provide a focused input method for typing in numbers, currency and even dates.
Date & Time Range Picker Help users easily pick a pair of dates or define date & time ranges.
Flexible Wheel Scroller Control Create custom scroller-style controls.
Single & Multiple Select Control Improve the user experience of the native dropdown controls.
Timer Control Provide built-in countdown or stopwatch functionality.
Timespan Control Help users specify a period of time from seconds to years.
Hierarchical Scroller Control Render hierarchical scroller controls within the same view.
Customizable Widget Frame Provide a familiar frame for any content with multiple display. modes
Component Details
Responsive Calendar:The only calendar you'll be needing for your apps with responsive and fullscreen mode. An essential control that is missing from the basic Ionic arsenal.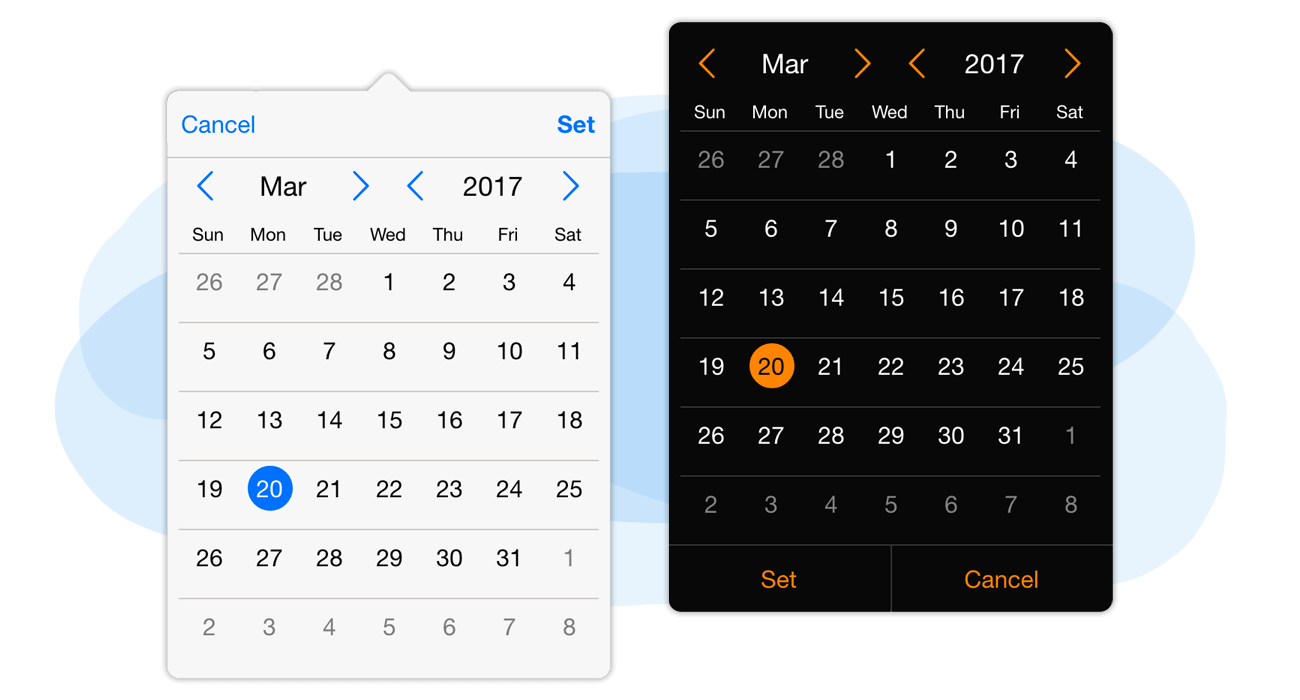 Advanced date & time picker:A more advanced date and time picker control that the basic Ionic date-time. It perfectly resembles the native pickers and their performance. Apply specific business rules for the perfect fit.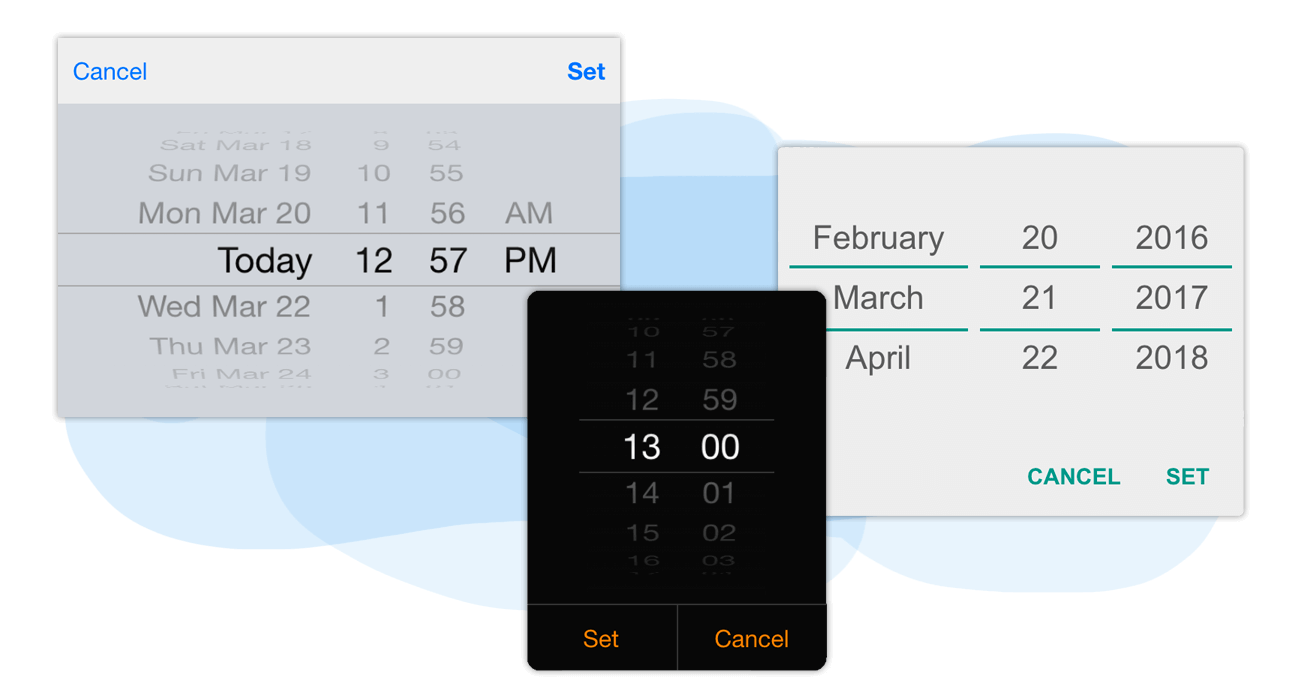 Range for date and time:A goto solution for picking date and time ranges. Date-only, time-only or mixed date & time. You can use it with one or two inputs. There is no simple alternative for the Range in the ionic controls, other than manually implementing the validation logic and adding the necessary plumbing code.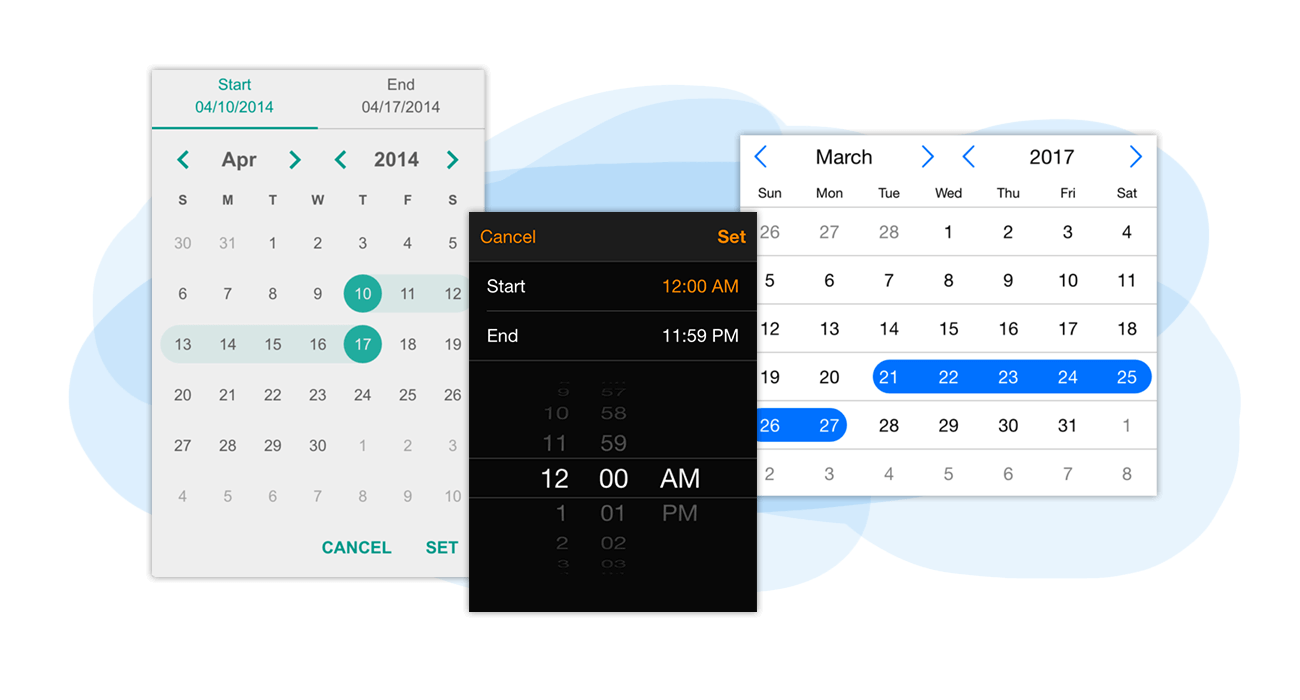 Select scroller:A great alternative to the native dropdown or ionic select with support for single and multiple selection. Grouping, render on demand supported out of the box. With near pixel-perfect rendering to the native counterparts and great customization options, this is a great addition to the basic Ionic toolset.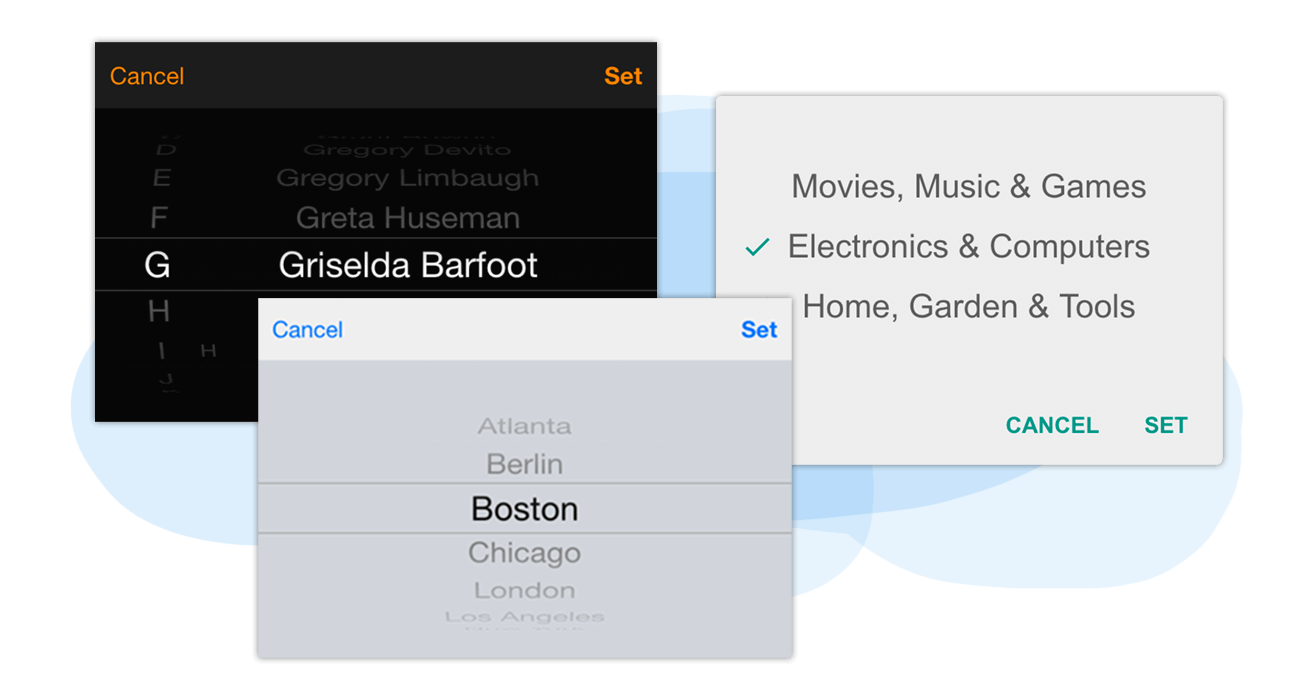 Lightweight event calendar:Compact calendar view with multiple daily or recurring events. Display, short event description in the day cells or provide lengthier text in a popup. There is no built-in alternative to this in the basic Ionic control set.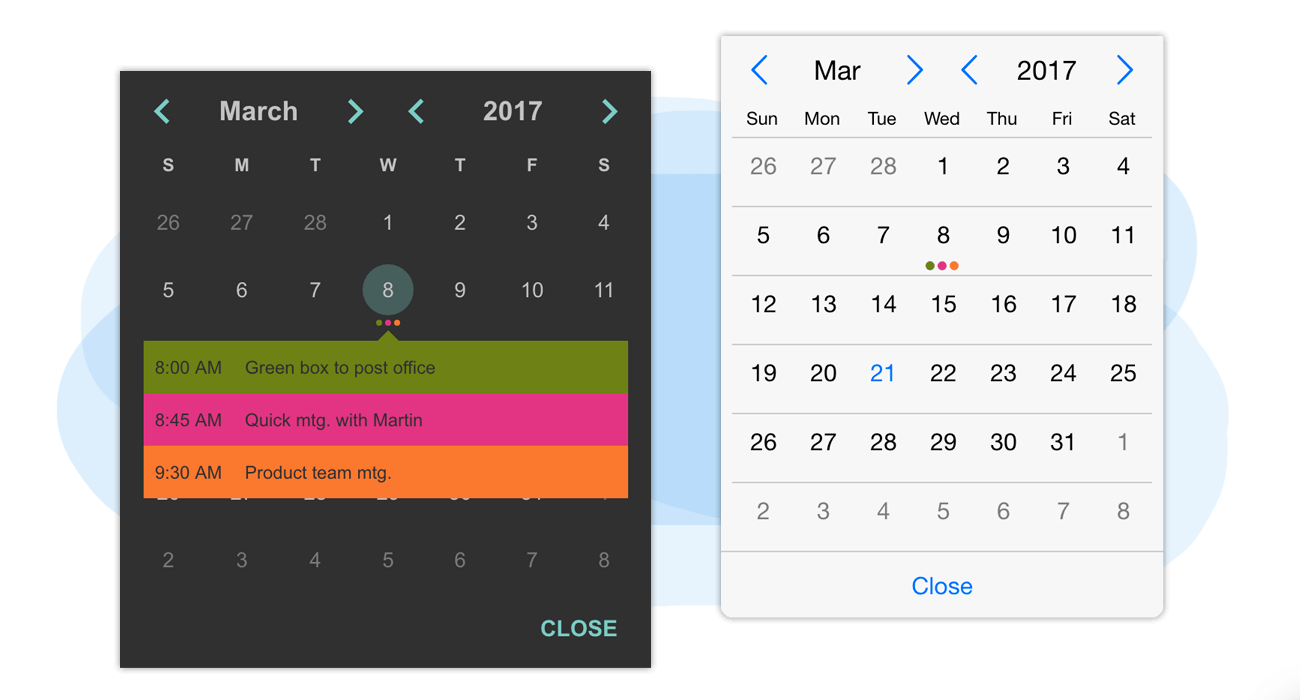 Color picker control:Customizable color picker control for single and multiple selection with refinement capabilities. There is no alternative to this control in the basic set of Ionic controls.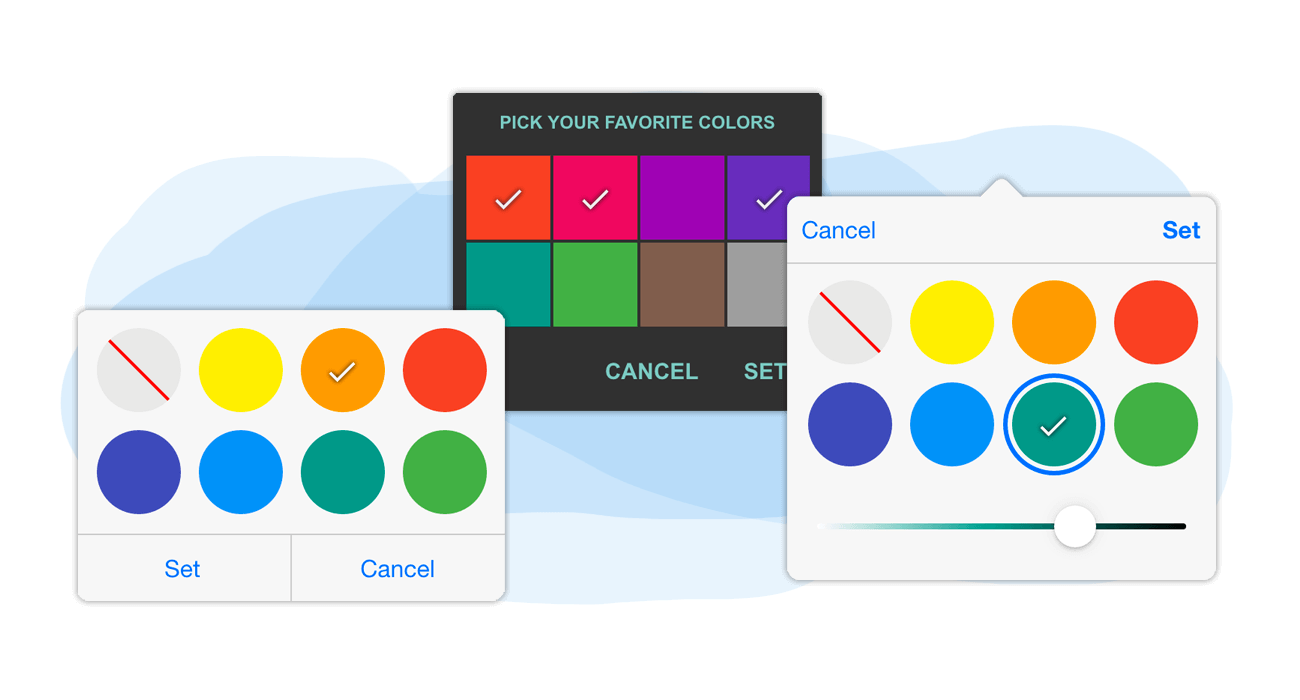 Image scroller:Enhance selections with icons or images and help users make a better, more informed choice. This control is missing from the basic Ionic controls.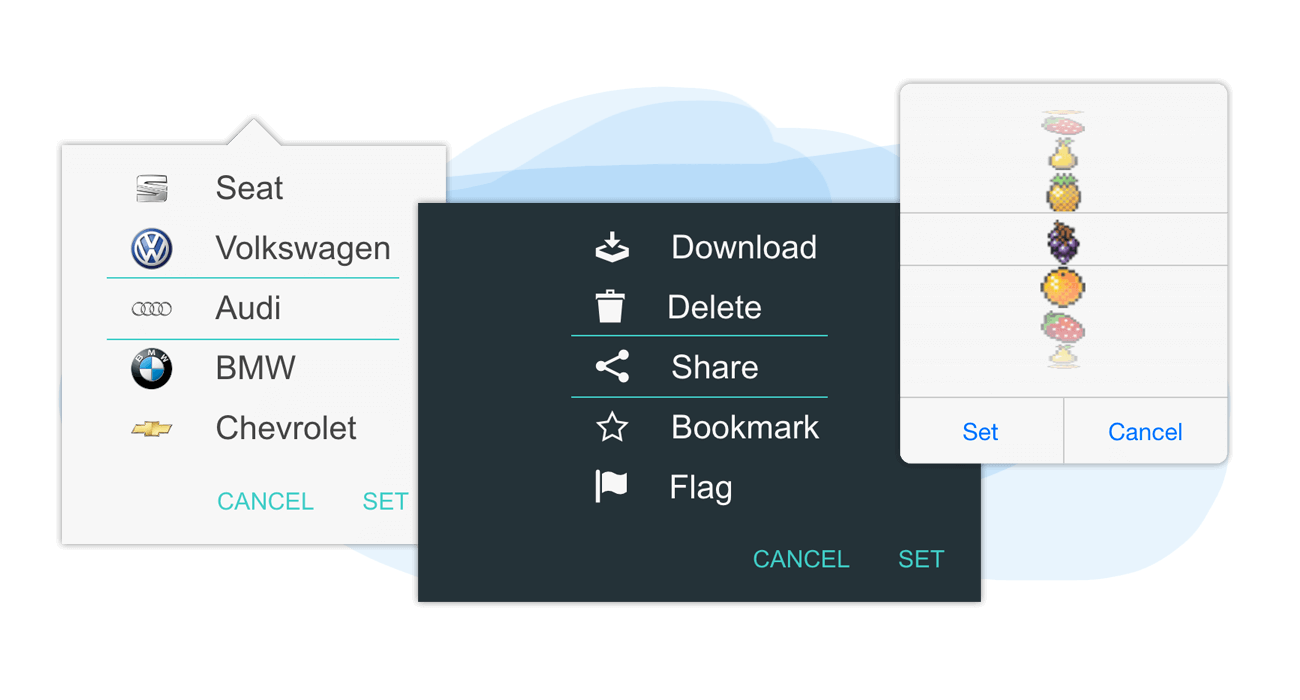 Measurement scroller & conversion engine:Capture and convert force, speed, mass, temperature and distance. Scroller based picker with built-in conversion engine. There is no alternative to this control in the basic Ionic toolset.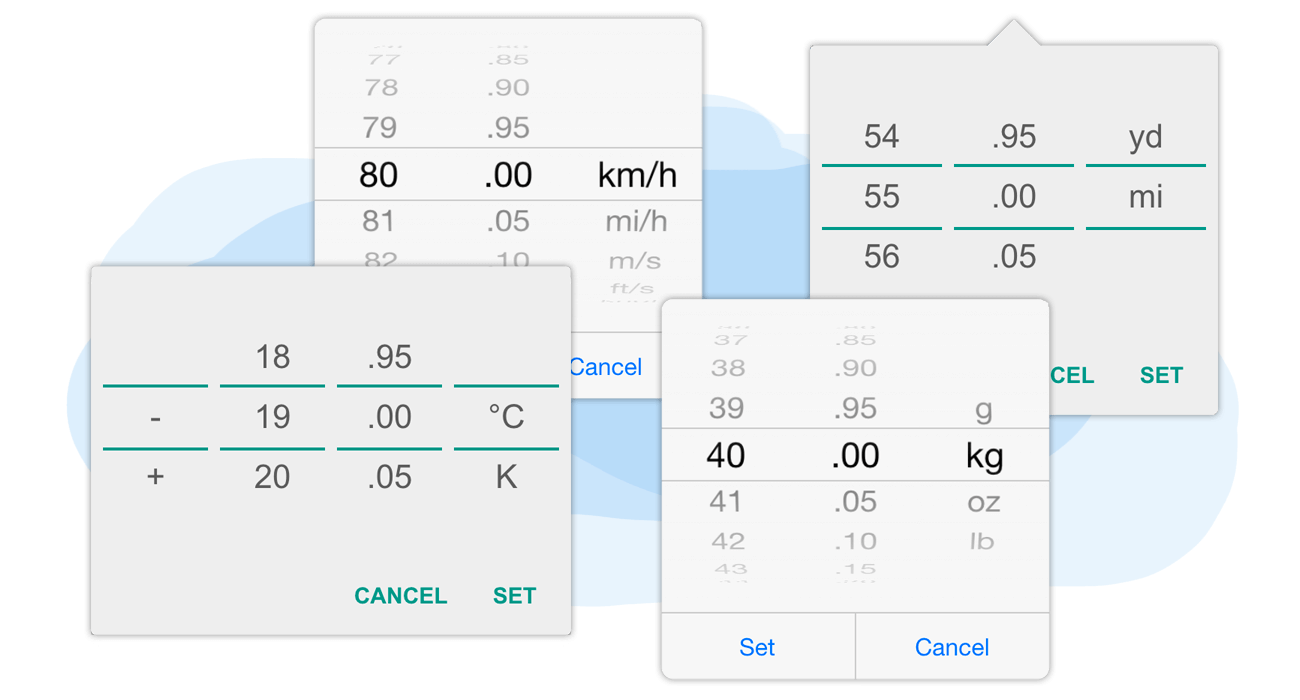 Number scroller:Capture and work with integer and decimal numbers with this scroller control. There is no alternative available in the basic set of Ionic controls.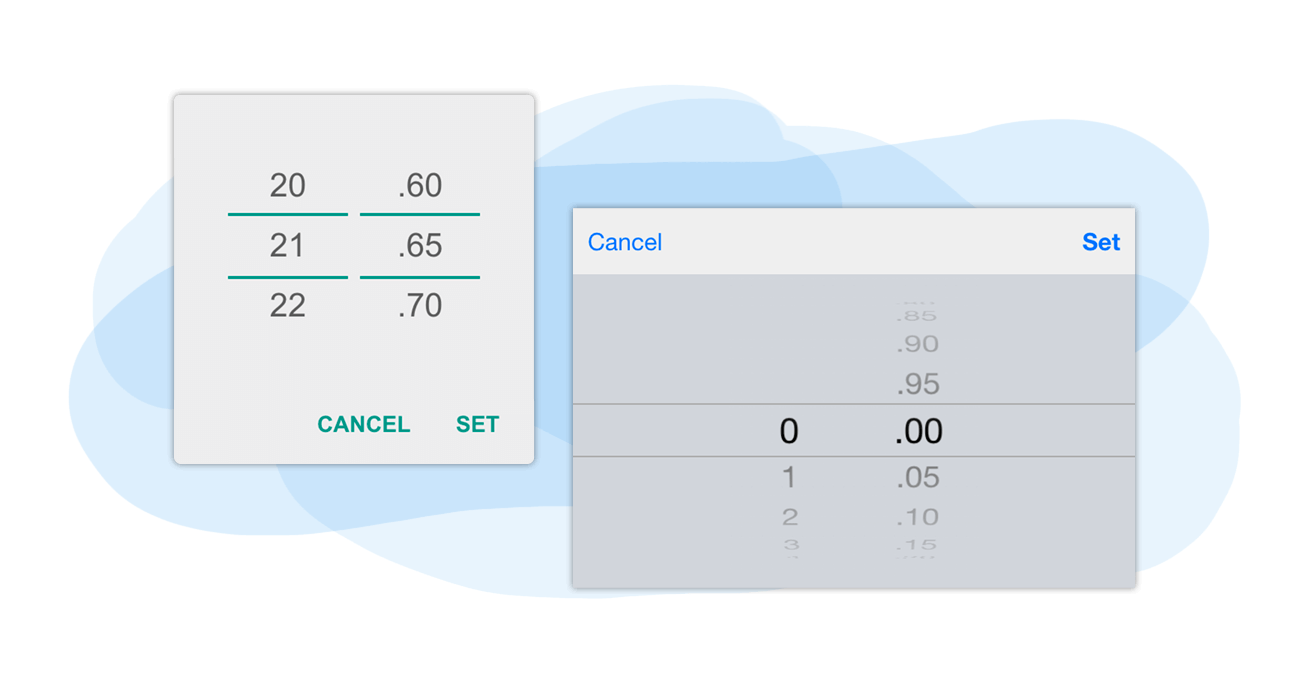 Numeric keypad control:Use this versatile numpad for a variety of tasks, including: number, date, time, currency, timespan and PIN entry. There is no alternative available in the basic Ionic toolset for this control.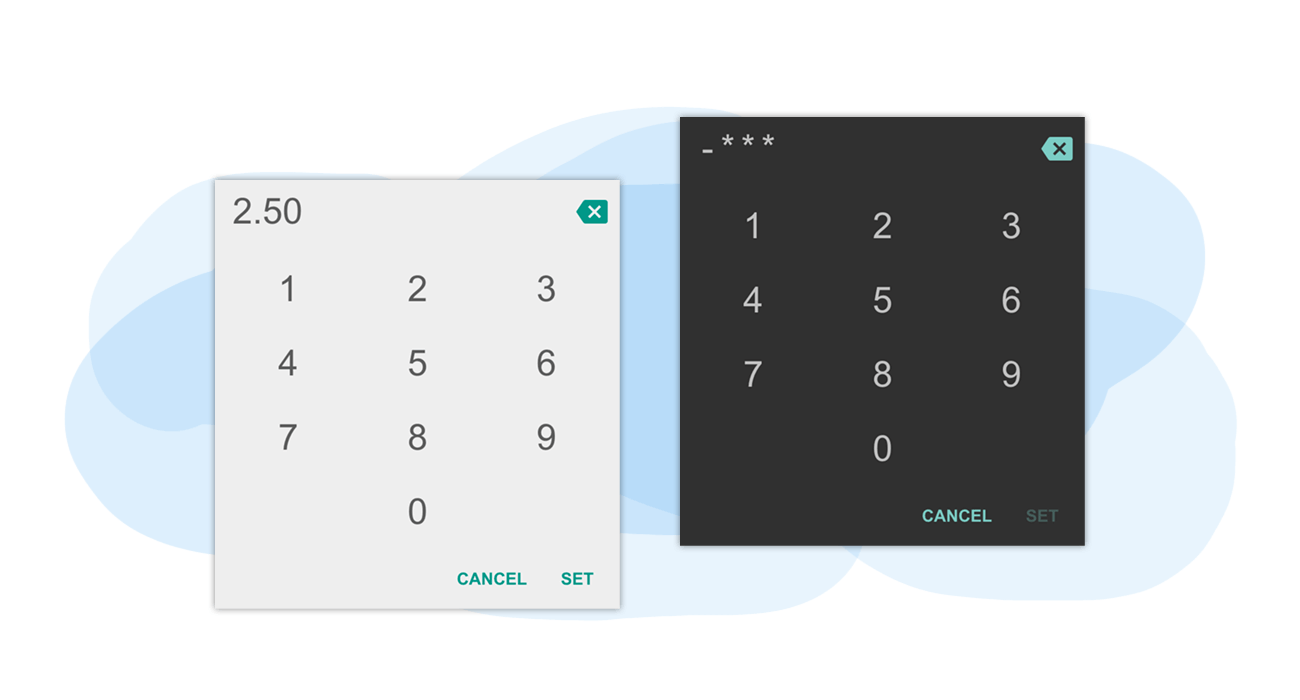 Timer with countdown and stopwatch:With built-in stopwatch and countdown functionality. Animated scroller for real-time feedback. There is no such control or alternative available in the basic Ionic toolset.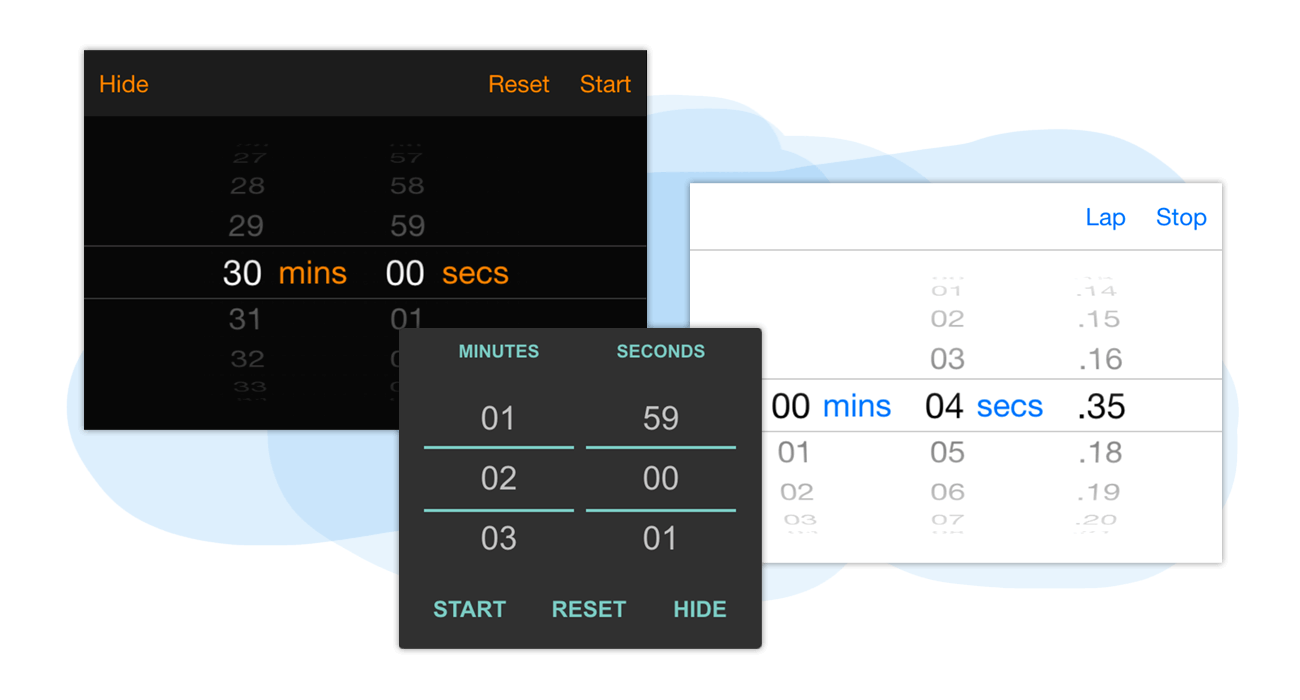 Timespan scroller:Make scheduling and adding past recordings easy by letting users enter timespans of seconds, minutes, hours up to years. There is no built in control in the basic Ionic set shipping with such functionality.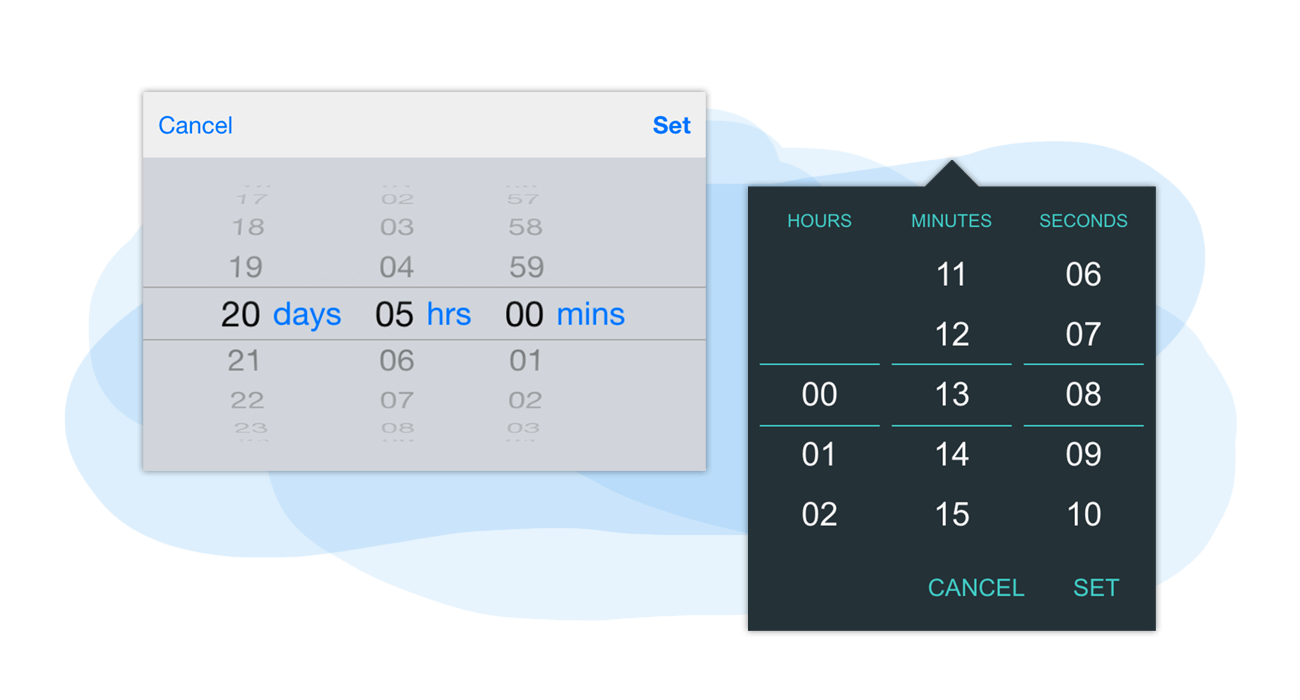 Hierarchical treelist:Help users pick from hierarchies in the same view. Think of it as multiple select scrollers without the need of switching context. There is no such control available in the basic Ionic set.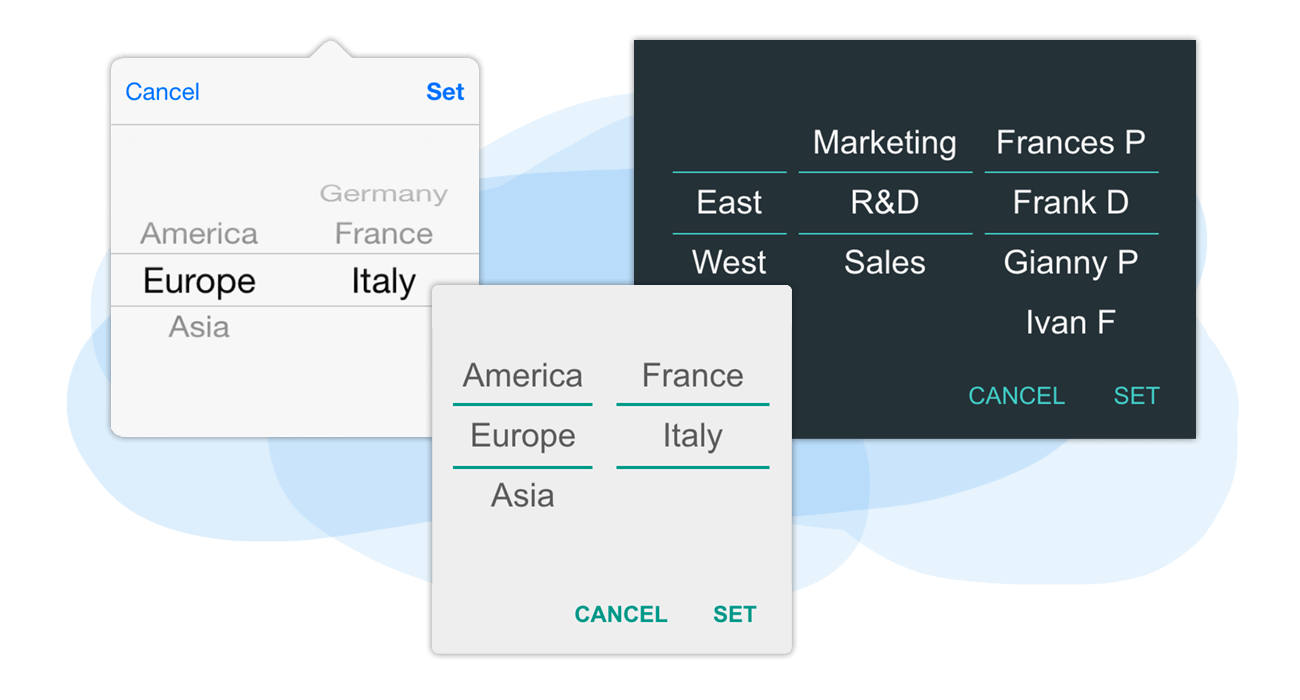 Getting Started
Ionic 3 starter: Download the Ionic 3 Starter app.
Kitchen sink app: [Live demo running inside an Ionic 3 build] (https://mobiscroll.com/ionic-components#kitchensink) with downloadable project.
Preview the app in Ionic View - ID:09372c58.
What people are saying