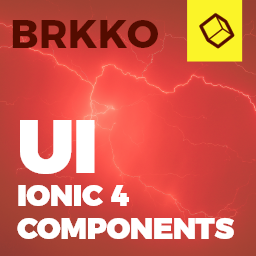 Brkko Ionic 4 / Angular 7 UI Theme / Template App Multipurpose Starter App
Ionic 4/Angular 7 starter app that includes 120 amazing screens and 30 components.
$39.00
Details
Version:

1.0

Ionic:

4.x

Platforms:

iOS, Android

Released:

2 years ago

Updated:

2 years ago

Category:

Tags:
Highlights
120+ screens
Built with Ionic 4, Angular 7 and Sass
Firebase backend
Fully responsive
10 color combinations
Helpful documentation & free updates
Brkko | Ionic 4 / Angular 7 UI Theme / Template App | Multipurpose Starter App
Brkko is an all-embracing starter app, built with Ionic 4 and Angular 7. If you choose this app template, you will have at your disposal a huge collection of 120+ screens, each available in 10 color combinations.
Features that will satisfy even the most demanding developers PWA ready
Progressive Web App (PWA) is a perfect blend of desktop and mobile application experience that gives the best of both platforms to the end users. Our Ionic 4 template is built with 100% support for PWA.
Firebase backend
The apps you build with Brkko Ionic 4 template will be powered with Firebase, a cloud-based platform owned and maintained by Google. This implies you can use the Firebase console to manage your app's data.
RTL support
Our Ionic 4 template supports languages that are based on a right-to-left script. There are only a few languages that use RTL text direction, but they cover a billion people. Support for RTL languages added in our starter app will enable developers to easily create a natural reading experience.
120 screens
We are always trying to make our templates as comprehensive as possible, and with more than 120 screens, there is hardly any app segment you won't be able to cover.
10 color combinations
There is a total of 10 color combinations – Sunset Orange, Mocha, Seagull, Turquoise, Bull Shot, Olive Drab, Flush Orange, My Skin, Pastel Green and Emerald.
Form validation
Apps often require entering certain information into a text field. For example, you may want to build an app that requires users to log in with an email address and password. Considering the fact that in our template form validation is already set up, you won't have to worry about incomplete submits.
Fully responsive
All 120+ screens are made responsive over Split Pane component that makes it possible to create a multi-view layout. In addition, ion-grid is included in every component.
One & Multi Selection – 6 screens in total
Animated Spinners – 10 types
Old pass & new pass – 2 layouts
Comments – 2 layouts
Payment
Forms – 4 layouts
Profile – 5 layouts
Segments – 3 layouts
Alert – 3 layouts
Timeline – 3 layouts
Forgot password – 2 layouts
Our online documentation includes all the instructions you need in order to add these components to your app. This template also includes an online preview to help developers see how these components will behave once implemented in the app.
Customer support & free updates
Our customer support makes sure that every inquiry is efficiently managed and responded to. We advise you to first take a look at our online documentation, where you can find instructions on how to build your own using our template. However, if you are not able to find answers in the documentation, you can always contact our customer support via e-mail dev@csform.com.
We are continually adding new features to our templates, so after the purchase every future update will be at your disposal for free
Open source projects
Thanks to the following technologies, we were able to build Brkko starter app. These technologies are open source, so building your app with our Ionic 4 template will not incur additional costs, besides the cost of the template itself.
Ionic 4
Ionic is an open source mobile framework that powers more than 4 million apps. The original version was released back in 2013, and built on top of Angular JS and Apache Cordova. Our template is based on the latest version of Ionic – Ionic 4.
Angular 7
Angular is a JavaScript-based front-end framework mainly maintained by Google and a community of individuals and corporations. Brkko template uses version 7 of Angular.
Push notifications
Push notifications are a text or rich media messages, sent to a mobile device from third-party applications once the users opts in to receive them. They are extremely useful as they have the power to stimulate user engagement and increase conversion rates. If you choose this Ionic 4 template, you will be able to easily send push notifications over Firebase.
Google Maps & Google Analytics integrations
Brrko Ionic 4/Angular 7 starter app contains 3 layouts with Google Maps API component (Location details, About us and Full screen view). We enabled Satellite and Map functions, as well as Street View browsing. We have also set up Google Analytics, so you can track the behavior of your users.
Mailchimp integration to collect email marketing leads
Our Ionic 4 template provides MailChimp integration that can help you in collecting leads for your e-mail campaigns and track results. All you need to do is to change the ID of your MailChimp list
Popular UI components included in Brrko Starter Apps
Below you will discover the full list of mobile app components that are found in today's modern apps.
List view (3 layouts of expandable, 3 layouts of drag & drop, 3 layouts of swipe to dismiss, 4 layouts of cards)
Tabs – 3 layouts
Parallax Effect – 4 layouts
Left menu – 1 layout
Gallery – 3 layouts
Wizards/onboarding – 4 layouts
Login – 2 layouts
Register – 2 layouts
Splash screen with KEN BURNS effect – 3 layouts
Maps – 3 layouts
QR and Barcode Scanner/QR Generator – 1 layout
Search – 3 layouts
Check box – 3 layouts
Radio buttons – 3 layouts
Range – 4 types
Toggle – 3 layouts
Action Sheet – 3 layouts
One & Multi Selection – 6 screens in total
Cordova plugins
Cordova plugins are basically a bit of add-on code that provides JavaScript interface to native components. They allow your app to use native device capabilities.### Sass
Sass (Syntactically Awesome Style Sheets) is an extension to CSS. It includes various features such as variables, nested rules, mixins, inline imports, built-in functions to manipulate color and other values, all with a fully CSS-compatible syntax. We made a super-organized main SASS file with all the necessary variables. The beauty of using Sass is that you can apply changes to all 120+ screens at once.### Elastic header with zoom
Made by Ola Christensson, Elastic header with zoom is an Ionic/Angular directive for elastic headers.### Animate.css
Animate.css is a CSS library that has been around for a while, and is used to create really nice animation effects using pure CSS.### SVG-Loaders
Created by Sam Herbert, SVG-Loaders is a group of animations which have a purpose of entertaining users while the content of the app is loading### Google Fonts
Fonts used in Brrko Ionic 4 template are free, and a part of Google Fonts library.