Wakanda Starter
Starter Application integrated with the Wakanda mBaas and Open Source platform
$0.00
Details
Version:

1.0.0

Ionic:

1.x

Platforms:

iOS, Android

Released:

5 years ago

Updated:

5 years ago

Category:

Tags:
Import your ionic app directly in Wakanda studio. Wakanda studio provides facilities to easily and quickly extend your app with Wakanda-Angular extension, ionic framework and cordova plugins. Take advantage of Wakanda server to build your backend with Wakanda built-in Database or with your own DB. Features:
Register page
Login page
Account management page
Download Wakanda
Download the latest Wakanda Community Edition on wakanda.github.io.
On Windows, double-click on the wakanda-digital-app-factory-xxx.msi file to launch the installation wizard.
On Mac OS X, open wakanda-digital-app-factory-xxx.dmg file and copy Wakanda Studio and Wakanda Server in your Applications folder :
Setup the mobile stack
When you create or open a project, your can check in the console for any missing prerequisites:

For example, you'll need Xcode to create iOS apps or Android SDK for Android apps.
Troubleshooting
Do you need help? Open the Mobile Troubleshooting App from the console or the main menu (Help > Wakanda Mobile Troubleshooting). Then, detect and fix common issues: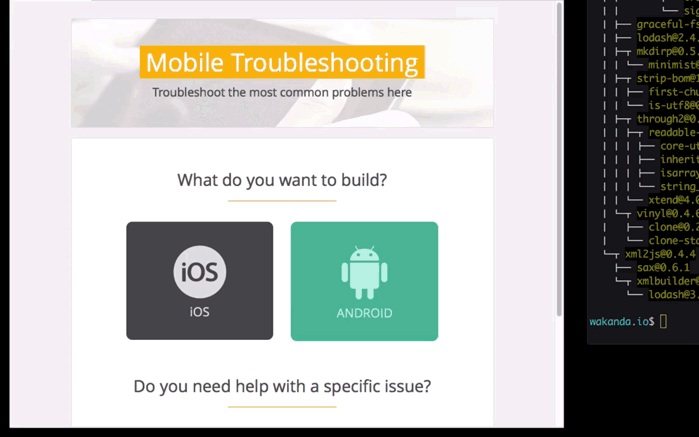 - Download the solution : WakUp.zip - Open the solution in the studio - Run Wakanda Server - Start building your app!